CareerBrandVideos™ are customized Done-For-You personal branding videos that help you stand out from the crowd . . . whether you're looking for a job . . . or a promotion . . . or ways to promote your business
Personal branding is no longer optional for executives, job seekers, professionals, career practitioners and other entrepreneurs.
Branding helps convey personality and a feel for who you are and what you're like to work with. People want to hire and work with people they feel they know and like.
You may think that personal branding is not for you, or you may be intimidated by it.
It's really a very simple thing that you may already be doing, but you didn't think of it as personal branding.
Branding is merely a way to differentiate yourself from others who are in a similar line of work.
Your personal brand is your reputation.
Your brand is the things you're known for . . . the things you're the "go-to" person for, whether it's your hard skills or so-called people skills.
And being visible online is a must for personal branding.
A robust online presence, and activity on social media/social networking sites, helps people looking to hire or work with people like you to easily find you when they Google "your name".
What's one of the best ways to promote your personal brand while at the same time improving your online visibility? 
PERSONAL BRANDING VIDEOS
CareerBrandVideos™ help people looking online for people like you determine whether you are a good fit for them to work with.
Executives, Job Seekers and Professionals:  Attract the BEST employers. Get noticed and get ahead throughout your career.
Career Pros and Entrepreneurs: Promote your services and products.
The many benefits of using CareerBrandVideos™
Award-winning CareerBrandVideos™ was created by 3 experts in today's
job search, career management and video marketing
For camera-shy people
You don't appear on camera, fidgety and unprofessional, and your voice is not used. Introverts (especially) love CareerBrandVideos™.
Tell your story
CareerBrandVideos™ give life to your story in a way that plain text can't.
You get a set of 3 videos
CareerBrandVideos™ come in sets of 3, one for each of the critical aspects of personal branding: Personality, Subject Matter Expertise and Testimonials.
Get found online easier
CareerBrandVideos™ get super fast results (sometimes within minutes) with online visibility. Get your name into page 1 Google search results.
Keep eyes on your personal brand for the long run
CareerBrandVideos™ can be used career-long for job seekers and professionals, and for years to come by career pros and other entrepreneurs.
We do the work
CareerBrandVideos™ is a customized Done-For-You video system. We create your 3 videos. You never touch complicated video technology.
Build your online visibility
We show you how and where to use your CareerBrandVideos™ on social media channels.
Winning short form videos
CareerBrandVideos™ are specially crafted to fit the preferred short format of about 1 minute.
They won't break the bank
With CareerBrandVideos™ you get 3 professionally crafted, fully optimized Done-For-You videos for 4-5 times less than the price of just one video by a video production company.
CareerBrandVideos™ won the prestigious Career Innovator Award of Career Directors International (CDI)
This biennial award honors career industry leaders for introducing an outstanding new and innovative product for job seekers and/or career practitioners.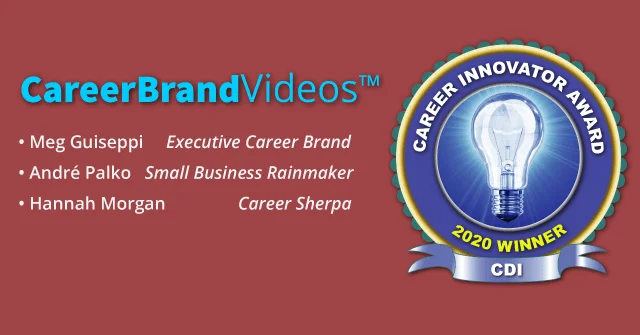 Our Partner Program is an ideal way for career practitioners (resume writers, job search/career coaches, counselors, recruiters, etc.) to make lucrative commissions. Add CareerBrandVideos™ to your service packages and/or through passive promotion. Your clients need video. Help them get it!
Executives, job seekers, professionals, career practitioners, and other entrepreneurs need CareerBrandVideos™
We work with executives, job seekers, professionals, career practitioners (and their clients) and other entrepreneurs to create dazzling personal brand videos that make them stand out, be remembered and attract opportunities.
What people are saying about CareerBrandVideos™
"I can't say enough about the team behind this tool! They're extremely knowledgeable, helpful, and customer-focused. I'm very grateful for them, their support, and their excellent CareerBrandVideos™ tool. This is a simple way to create an effective and engaging online marketing presence. My videos are high-quality and exceeded my expectations.
The process helped me sort the many skills my background represents, and pinpoint and highlight my key strengths. These were distilled into a simple, engaging and effective visual marketing tool that's easy to deploy online. The ebook was/is hugely helpful to me as I've not done anything like this before, and never used video before. I definitely recommend that anyone use this video program."
"My CareerBrandVideos™ are professionally done and very high quality. They're a newer way to share expertise and get something out in front of prospective clients.
For me, as a small business owner, they are one component of many. I think job seekers or others who do not want to get in front of camera will benefit. They can supplement this with other career marketing materials.
The worksheet especially helped me understand my value. The testimonial video format works very well as a way to share testimonials. I will highly recommended your product to colleagues and others."
"The feedback I got from my network about my CareerBrandVideos™ was overwhelmingly positive and the effort on my end was made easier by the process involved. The videos provide another channel for people to view me as a candidate or as a colleague.
They are a concrete example of trying to be innovative by trying something different. They demonstrate some aptitude to leverage up-to-date capabilities, especially important for someone like myself involved in technology."